While an event may last for just a few hours or a day, the memories should stay with you longer. There are many opportunities to create magic moments at your event, but nothing can maintain the excitement like a photo booth. There are so many reasons why you should hire a photo booth for your next event and we will look at 10 major ones here.
What is a photo booth?
Before we delve right into the reasons why you need a photo booth in your next event, it is important that we take a little while to ask, what is a photo booth?. You might have seen many of them before, but what exactly are they?
In the past, photo booths were simply vending machines that snapped photos when coins are dropped into them. Today, however, photo booths can be best described as an interactive tech solution for picture taking at any kind of event. Containing built-in DSLR cameras and professional lighting and complete with fun customizable capabilities such as digital props. Photo booths take many shapes and sizes, from a standalone camera, to even a mirror photo booth.
A modern photo booth takes amazing photos of you and your guests during the events and offers various options for printing and sharing the photos digitally. 
Two of our Modern Booths keeping dozens of guests entertained
Why You Need to Hire a Photo Booth for Your Next Event
So you are still contemplating whether to have a photo booth at your next event? Well here are 10 reasons why it is an absolute necessity:
1. It Is a Form of Entertainment for Many
This is one of the biggest benefits you will get. Guests generally love photo booths and it will be a form of side entertainment at all times. Having a photo booth will completely eliminate the chances of your event getting boring. Even when it seems nothing serious is going on, your guests will be busy taking fun photos.
2. It Is Suitable For People of All Ages
One good thing about photo booths is that it resonates with people of all ages. It is always great to see the older generation and young people appreciate a common thing, and that is what a photo booth will do for your party. The idea has been around for ages and the experience is not too different from what the old souls used to enjoy. A Modern photo booth simplifies the process, rather, and makes things a lot more fun.
3. It Offers Different Options for Different People
Photo booths cater for all kinds of guests with different personalities. Even shy people will find a lot of comfort when the curtains are drawn in an enclosed booth. Open air photo booths will accommodate several people for fun photos. With enhanced capabilities, most modern photo booths provide more options than you can imagine. Photos can even be printed from Instagram! Yes, it is that fun.
4. It Gives Your Guests Instant Gratification
How about giving your guests special photos of themselves from your special event right on the spot? Well that is exactly what photo booths will help you achieve. Make no mistake, human beings crave for instant gratification and you can satisfy their cravings with a photo booth in your party or event. This is a fabulous favour that will keep your event close to their hearts for a long time to come.
While in a photo booth taking a photo take a selfie – the instant gratification can't be better
5. It Delivers Consistent High Quality Photos
The fact that photo booths print event photos instantly does not mean that there is any compromise in the quality and speed of the photos you will get. They come with the latest professional photography equipment and friendly booth attendants to make things work smoothly. If you hire a photo booth from a reputable company, you can be sure of consistently high quality results.
6. The Props Add A Little More Fun to the Experience
An awesome photo booth will come with dozens of props and photo filters. These will add a lot of excitement for your guests. Imagine everyone, young and old, taking pictures just the way they want. They can spice up their poses and jazz their attires with the provided props. The experience can literally take your party to the next level.
7. It Lets You Add a Personal Touch to All the Event Photos
Customising the printed photos will keep the memory of your event on the minds of your guests for a long time. You are able can easily customize the photo template to match your unique theme. Your event photo template design can be as simple or as intricate as you'd like. A great photo booth business will offer this service free of charge.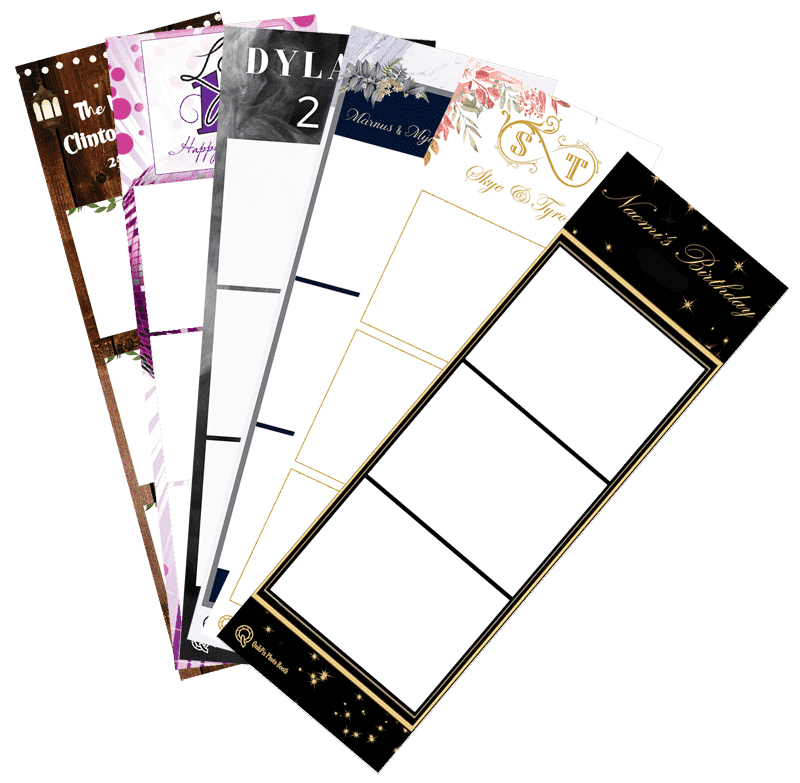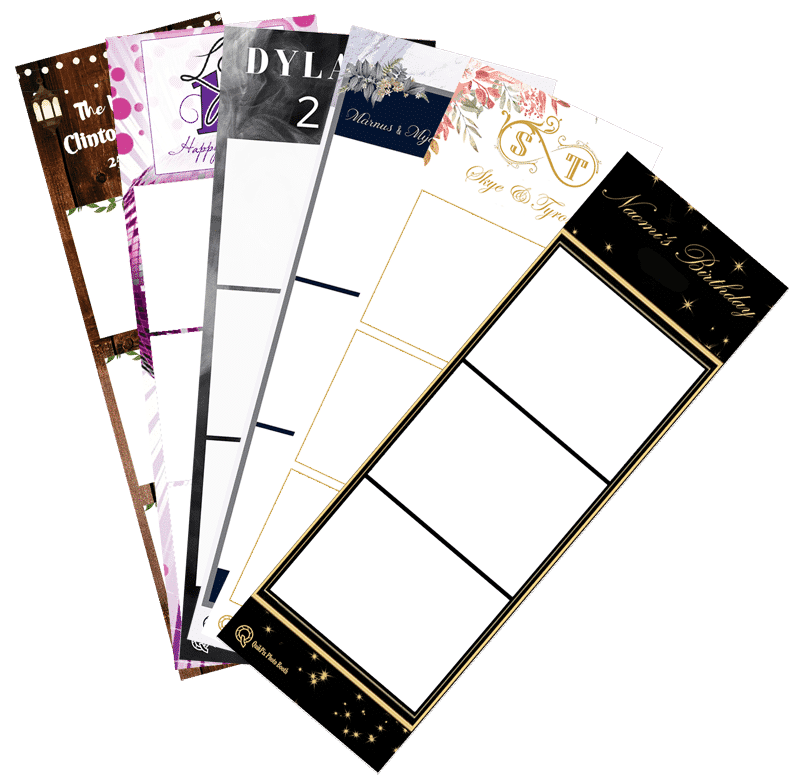 Customized photo templates
8. It Can Make Your Event a Talking Point
Let's be honest, how often do you stand inside an inflatable photo booth to take a photo? When an event is a little different from what people normally experience, it can be the talking point for some time. If this is what you desire, a photo booth can help you achieve that. Once you choose the right booth for your event, people will rave about it for weeks. 
9. You Can Get the Coolest Guestbook
Photo booths offer a little twist to the traditional guestbook. In the midst of the wedding excitement, it is likely that most (if not all) your guests will add a snap to your guestbook. This can be very exciting when you are looking back at your wedding or birthday party.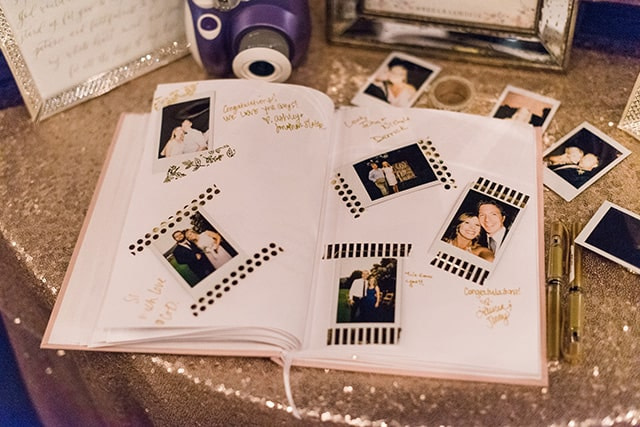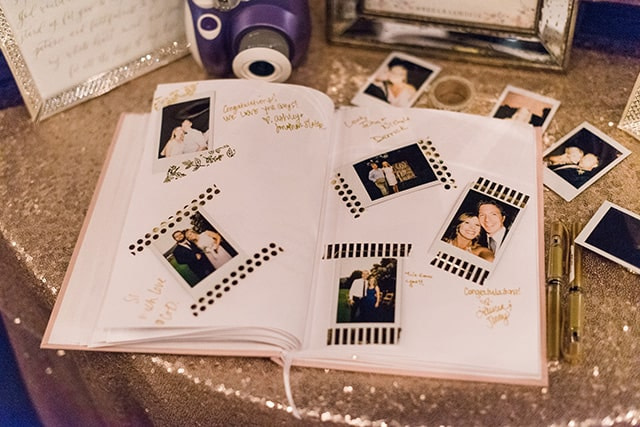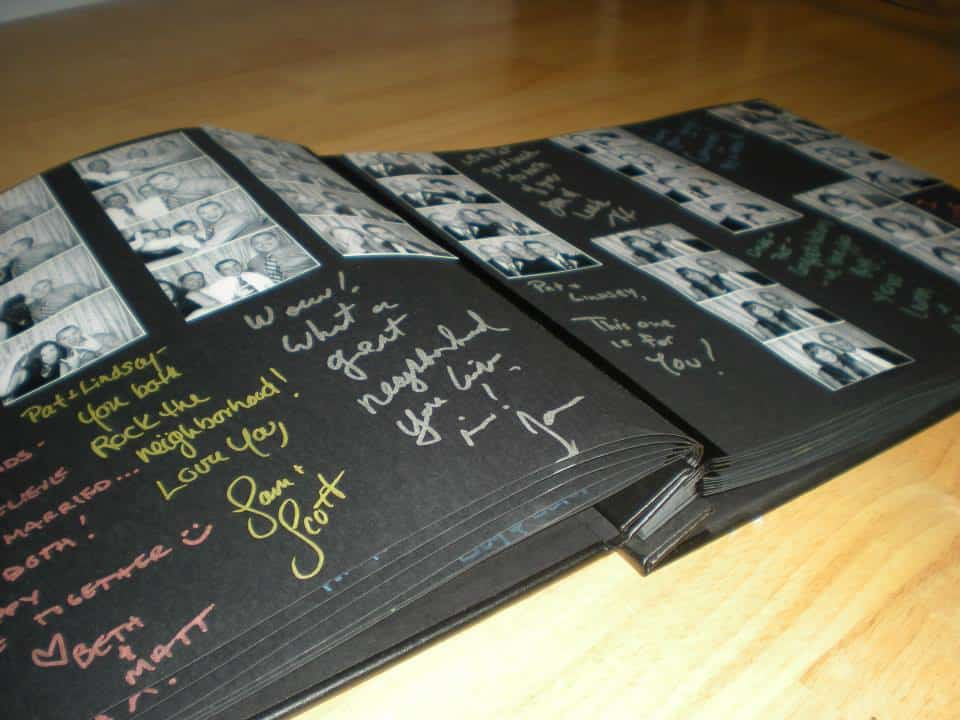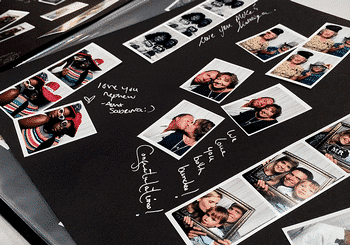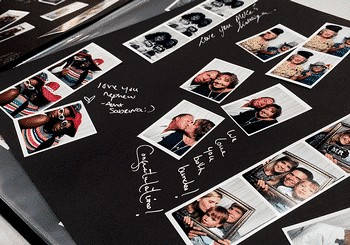 Different styles of guest books
10. It Offers Endless Flexibility
You may be thinking at this point that to hire a photo booth will cost you a fortune. This is really not the case. A reputable photo booth company offers flexible options. You will be able to rent for an hour, two hours, or even a full day. You will also be able to choose the extra services you need and forget about the ones you don't need.
A photo booth will certainly spice up your event. The points above are just some reasons you should have one for your upcoming event. They are great for all kinds of occasions including corporate events, weddings, birthdays, matric farewells, baby showers, or similar events.
After reading our blog, you don't have to ask yourself anymore "what is a photo booth?". Now the next step is to hire a photo booth from a trustworthy company, such as QuikPix Photo Booth, as it is the surest way to enjoy all the benefits photo booths have to offer.
Follow us on Instagram or like us on Facebook to see photos from our events.